Smart cities and public transport move to open loop payment technology
The more access people have to new technologies, the greater the likelihood they will move to urban areas - a trend that is receiving much attention across the world. More than two-thirds of the world's population is expected to live in urban areas by 2050, creating huge challenges around pollution and transport.
The adoption of mobile devices and smartphones is playing a key role in transforming consumer behaviours, driving the push for cities to become more connected and networked. With an increased number of wearables such as smartwatches and NFC-enabled devices, access to (and shareability of) information has increased greatly.
Thanks to internet connectivity, communities have formed and the concept of sharing a car, bike or any form of transport no longer seems marginal. On the contrary, it becomes vital in polluted and heavily congested cities whose citizens are demanding better mobility and velocity.
Mobility is key to successful economic growth and, therefore, it is increasingly a priority for governments and public transportation companies. However, investing in good public transport infrastructure is only part of the equation - to make public transport services attractive to passengers, operators must simplify and streamline the collection of fares and provide easy and convenient payment options.
Following on from coins and paper tickets, the race for convenience has now moved to a ticketing system based on open-loop technology, enabling contactless, paperless operations that save users time and money while reducing paper waste.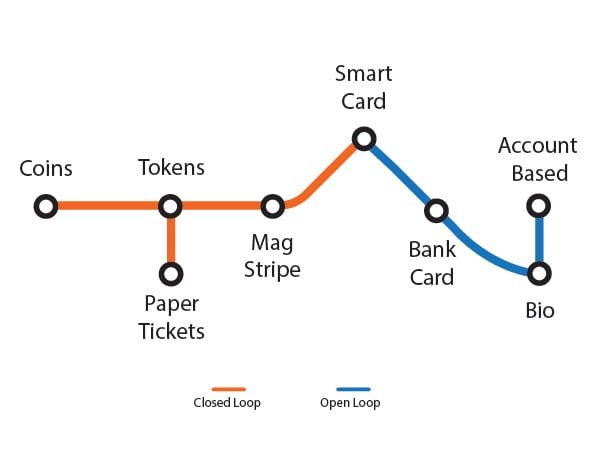 How does account-based ticketing work?
Open-loop technology is a term used for mass transit payments as well as other related payments such as parking, waterparks, bicycle hire stations, toll gates, etc. Traditional or closed-loop payment systems, such as Oyster in London or Octopus in Hong Kong, require users to store their money on a card account, converting it into digits on the card with no option to recover a refund. Clearly, holding money on a card eliminates the option of using it elsewhere.
The differences between open-loop and closed-loop technology are conspicuous
Have you ever lost your debit or credit card or been a victim of theft? The loss of a card in a traditional closed-loop system usually equals the loss of the money you have stored on it since a physical card serves as an account for operations. Moving to an open-loop environment eliminates that risk because account-based technology stores all the information in the cloud, where it is protected from physical or electronic theft and fraud.
Have you ever found yourself with a pocket full of cards but unable to find the right one to pay on the bus or underground? Closed-loop technology implies the issuance of separate physical cards, which can be topped-up and used only for travelling with a certain type of transport. It is not convenient for passengers since it restricts freedom of movement and flexibility. On the other hand, open-loop technology provides an opportunity to pay simply with a bank card, wearable device, smartphone or QR code scanner, providing additional freedom for the user and decreasing costs for business associated with special cards issuance.
Have you ever thought of adding transport modes to your growing network? Closed-loop technology facilitates this, but adding new members can become very costly and time-consuming since the technology requires coding, upgraded infrastructure and sometimes the modification of end-reports to show new modes correctly in each office. With open-loop technology the change is centralised. With plug-and-play technology, new modes can be integrated into your transport web within 24 hours.
Closed-loop technology such as coins, paper tickets, magnetic stripe or even earlier versions of smart cards has limited interoperability and intermodality. Moreover, the balance of such technology is stored on the card, which increases the risk of loss of all funds if the token/ticket is lost. Remember carefully monitoring the balance on your travel card to ensure you had the money for one more trip so that you would not be left at the bus stop in the middle of the night? Open-loop technology solves this problem by allowing a top-up via mobile app or internet.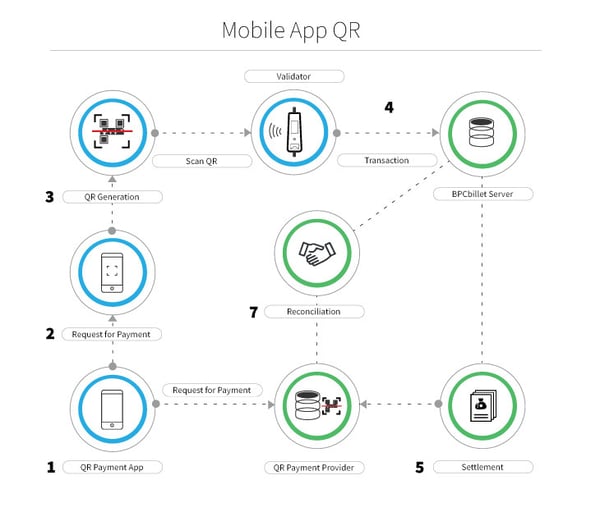 Open-loop technology also allows funds to be electronically stored in the cloud, decreasing the risk of fraud and easing fund recovery. With bank cards or mobile QR codes via your personal account, where the verified payment card is stored, payment is much easier, more flexible and safer. The above image shows how easy it is to use the Mobile App for QR code scanning.
The opportunity for online top-ups via the internet significantly improves the velocity of operations and reduces queues for paper-based tickets. Thanks to the digitalisation of operations, the risk of theft and fraud are greatly reduced, improving profitability and reducing paper waste. Going paperless makes your business more efficient and is good for the planet.
Bridging to real-life examples
Singapore
Singapore is a world-leading example of the benefits of open-loop technology, with passengers with Mastercard or Visa contactless bank cards able to use them to pay for public transport rather than using physical travel cards. Fares for each journey are reflected in end-user credit or debit card bills as they would be for retail purchases.
How Singapore became the world's poster child of smart cities
Nairobi, Kenya
According to a 2018 report from Deloitte, most of Nairobi's population depends on Matatu buses - vehicles owned by individuals who transport commuters independently. Transportation was therefore chaotic until the partial introduction of an open-loop system that allows owners to track their operations, reduces fraud and theft risk and improves transparency for the users. The introduction of this technology has made Nairobi more attractive for business.
100 cities worldwide powered by BPCbillet
BPC open-loop technology is powering more than 100 cities worldwide. From the inception of transport projects, BPC has connected more than 150 transport operators' routes, providing accessible, convenient transport to more than seven million passengers daily and processing more than 300 million transactions every day. The solution has provided a smooth transition from paper-based to digital and contactless payment and can be applied to other areas such as museums, tolls and parking spaces to provide a seamless, integrated customer experience for commuters and valuable data for government and transport companies.
Future outlook and market size
Applications of open-loop technology continue to grow, from monitoring areas of crime to allowing people to access entertainment activities seamlessly. According to Grand View Research, the global smart cities market was valued at $83.9 billion in 2019 and is expected to register a CAGR of 24.7% from 2020 to 2027.
The value in this market is expected to shift from high-ICT spending countries such as the US, which has dominated the smart cities market in terms of revenue generated since 2017, to the APAC region where investment is being supported by government subsidies and initiatives. This will result in the adoption of more open-loop technologies in areas beyond transport in Singapore, India and China in particular.